(CNN) -- Federal judges tentatively ruled on Monday that California must reduce the number of inmates in its overcrowded prison system by up to 40 percent to stop a constitutional violation of prisoners' rights.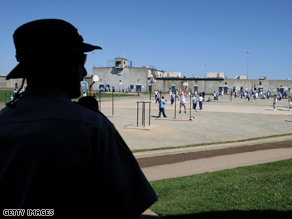 California must cut the number of inmates in its prison system by up to 40 percent, judges have ruled.
California state officials, including Gov. Arnold Schwarzenegger, immediately promised to appeal the case to the U.S. Supreme Court, if necessary.
"The governor and I strongly disagree with this ruling," said Matthew Cate, California's corrections and rehabilitation secretary. Implementing the court's ruling would result in up to 58,000 prisoners being released, Cate said, describing it as a threat to public safety.
He disputed the court's contention that the prisons are unsafe the way they are now.
But in 2006, Schwarzenegger declared a state of emergency because of "severe overcrowding" in California's prisons, saying it had caused "substantial risk to the health and safety of the men and women who work inside these prisons and the inmates housed in them."
In court documents, the judges said the state's prison system was at about 200 percent of capacity.
To read this article in it's entirety: click here
Hmmmm....I don't know if this is a good thing or not.....particularly when you are releasing them with no skills, no job options and no real rehabilitation.....doesn't that pretty much leave the released no choice but to go BACK to what got them incarcerated in the first place.....?

"We're essentially seeing people forced into refugee status. The experts say the major thing in preventing recidivism is to allow offenders to rebuild their lives, put down roots. But because of feel-good, poorly-thought-out, knee-jerk reactions by politicians, the effect is to increase recidivism." - William Buckman